Le rendez-vous des épicuriens et des collectionneurs
Situé au cœur du 16ème arrondissement de Paris, votre restaurant le Bistro de l'Arc est ravi de vous accueillir.
Ouvert du lundi au vendredi, de 7h à 00h, c'est à quelques minutes de l'Arc de Triomphe et de la Place de l'Etoile, que vous attend une surprenante découverte culinaire.
Vous tomberez sans aucun doute sous le charme d'une cuisine authentique : des classiques de la cuisine traditionnelle française mais également des plats signatures du jeune chef Thomas Doira.
Les produits proposés garantissent une fraîcheur ultime et varient au fil des saisons. Cet établissement est une véritable modernisation du bistro, dans une décoration chic et décalée.
Envie de partager un instant convivial en toute intimité ?

Votre restaurant le Bistro de l'Arc propose spécialement pour vous, un salon privé pour 12 personnes maximum, ainsi qu'une table d'hôte située dans le restaurant.
Nous pouvons accueillir les groupes pour dîner ou déjeuner jusqu'à 50 personnes dans la salle du restaurant, et 30 personnes sur la terrasse fermée (couverte chauffée l'hiver), avec également la possibilité de cocktail dînatoire jusqu'à 120 personnes
À l'heure du Petit-Déjeuner, du Déjeuner ou du Dîner, Le Bistro de l'Arc vous accueillera à n'importe quel moment de la journée pour un moment riche en saveur et en bonne humeur.
Bistro de L'Arc
11 avenue de la Grande Armée
75016
Paris
01 43 06 76 50
Menu
POUR COMMENCER…/TO START...
Pâté en croûte façon Champion du Monde Daniel Gobet
Pâté en croûte à la façon World Champion Daniel Gobet
22 €
Oeuf de Poule Bio mayonnaise Safran à la Poutargue
Organic Chicken saffron mayonnaise with Bottarga
17€
Terrine du Chef à la Pistache, Roquette à l'Huile de Noix
Chef's Terrine with Pistachio, Arugula with Walnut Oil
17€
Foie gras Mi-Cuit, Brioche Toastée, Confiture de Figues
Half-Cooked Foie Gras, Toasted Brioche, Fig Jam
26/46€
Burrata des Pouilles, Tomates collection, Pesto verde
Puglia burrata, collection tomatoes, verde pesto
21/32€
Tartare de Thon à la provençale
Provençal Tuna Tartare
24/34€
Escargots de Bourgogne en persillade
Burgundy Snails in Butter Butter
17/29€
Velouté de saison, croûtons à l'ail
Seasonal cream soup with garlic croutons
16€
Saveurs Végétariennes/Vegetarian Flavors
César végétarienne à l'Halloumi
Veggie Caesar with Halloumi
25€
Burger Vegan, frites et salade
Vegan burger, fries and salad
26€
César Volaille ou Crevette
Caesar Poultry or Shrimp
25€
Salade Crétoise à la Féta et Tzatziki
Cretan Salad with Feta and Tzatziki
24€
Coquillettes Jambon Façon Grand-mère
Grandmother-style ham shells
25€
Coquillettes Truffées
Truffled Shells
30€
Agnolottis truffés, crème de Burratta, Pistaches concassées et pulpe de Citron
Truffled agnolotti, Burrata cream, crushed pistachios and lemon pulp
25€
Les Sandwichs au pain Poujauran servis avec frites fraîches
Sandwiches made with Poujauran bread served with fresh fries
Croque Truffé du Bistro
Truffle Croque from the Bistro
26€
Crab Rolls au Safran
Crab Rolls with Saffron
26€
Avocado toast, Saumon fumé de Norvège, gingembre confit au sésame
Avocado toast, Norwegian smoked salmon, sesame ginger confit
19€
À PARTAGER/TO SHARE
Les Mezzés du Patron (8 pièces, Houmous ou caviar d'aubergine)
The Patron's Mezzes (8 pcs +hummus or eggplant salad)
32€
Caviar d'Aubergine et Grenade
Eggplant and pomegranate caviar
10€
Houmous au citron, pain libanais
Hummus with lemon Lebanese bread
10€
Choux fleur doré au sésame
Golden cauliflower with sesame
10€
Tapas du chef/Chef's Tapas
Finger Food (4/8 pces) la Maison Nordique
. Nems Poulet/Nems Chicken . Mozzarella Sticks . Crevettes Panko/Panko Shrimps
18/32€
Saltufo Truffé parmesan
Saltufo Parmesan Truffle
12€
Sardines argentées à la grenobloise
Grenoble-style silver sardines
16€
Saucisse Sèche d'Auvergne et pickles
Dry sausage from Auvergne, pickles
8€
Tarama truffé et blinis
Truffled tarama and blinis
16€
Calamars à la romaine, mayonnaise safran
Calamars in roman style, Saffron mayonnaise
20€
Charcuteries sélectionnées
Selected charcuterie
22/34€
Fromages Affinés de chez Maison Anthes
Refined cheeses from Maison Anthes
22/34€
À SUIVRE.../AFTER...
Carpaccio d'Angus, Parmesan et Câpres, frites fraîches
Carpaccio of Angus, Parmesan and Capers, fresh fries
30€
Tartare Charolais Parisien au Couteau et son oeuf Bio, Frites Fraîches
Parisian Charolais tartare with a knife and its organic egg, fresh fries
26€
Entrecôte Simmental de Bavière, Frites Fraîches
Bavarian Simmental Rib Steak, Fresh Fries
38€
Filet de Boeuf Simmental Sauce Bearnaise, frites fraîches
Fillet of Beef Simmental, Bearnaise Sauce, fresh fries
42€
Blanquette de Volaille à l'ancienne, Riz jasmin
Traditional Poultry Blanquette, Jasminei Rice
27€
Côtelettes d'Agneau au piment d'Espelette, petits légumes de saison
39€
Navarin d'Agneau primeur
Navarin of early lamb
28€
Jambonneau à l'Os, pommes grenailles, sauce moutarde à l'ancienne
30€
Jambonneau à l'Os, pommes grenailles, sauce moutarde à l'ancienne
Ham on the Bone, pommes grenailles, old-fashioned mustard sauce
30€
À Partager (1 accompagnement au choix)
To share (1 side dish of your choice)
Côte de Bœuf "Simmental de Bavière", Jus Truffé, Os à Moelle (800g/1kg)
Rib of Beef "Simmental from Bavaria" Truffle Juice, Bone Marrow (800g/1kg)
90€
Epaule de Porcelet au citron Confit de 7h
Piglet Shoulder with Lemon Confit 7h
80€
Filet de dorade, petits légumes au citron vert
Fillet of sea bream, vegetables with lime
28€
Pavé de Thon au sésame doré, Riz jasmin
Tuna steak with golden sesame and jasmine rice
38€
Gambas au Kumbawa, Petits Légumes, bouillon à la Citronnelle
Prawns with Kumbawa, Small vegetables in Lemongrass broth
42€
Au choix avec votre plat
Frites Fraîches Maison, Pomme Purée Maison + supTruffé (6 €) Légumes de Saison, Sucrine Croquante et Tomates cerises Garniture supplémentaire : 8€
Your choice with your dish
Homemade Fresh Fries, Homemade Mashed Apple + Truffle Sup (6 €) Seasonal Vegetables, Crunchy Lettuce and Cherry Tomatoes Additional garnish: 8€
FORMULE
Plat du jour
Dish of the day
23 €
ET POUR TERMINER…/AND TO FINISH...
Les fromages affinés Maison Anthes (St Nectaire, Comté 14 mois, bleu d'Auvergne, Camembert de Normandie)
Maison Anthes mature cheese (St Nectaire, Comté 14 months, Bleu d'Auvergne, Camenbert de Normandie)
22/34€
Baba Ivre de Rhum, Raisin Sec et Chantilly d'Isigny sur Mer
Baba Drunk with Rum, Raisin and Chantilly from Isigny sur Mer
15€
Crème Brûlée du Bistro
Bistro Crème Brûlée
11€
Panna Cotta saveur exotique, Spéculos
Exotic Panna Cotta, Speculos
11€
Tarte du jour
Tart of the day
12€
Mousse au chocolat
Chocolate mousse
11€
Fondant au chocolat grand cru 70%, glace Coco
Grand Cru 70% chocolate fondant with Madagascar vanilla ice cream
15€
Yahourt Maigre de la Ferme des peupliers, Coulis de Fruit
Lean Yoghurt from the Poplar Farm, Fruit Coulis
10€
Les Glaces et Sorbets (Vanille, Café, Chocolat, Caramel beurre salé, Fraise, Pistache, Citron, Mangue, Coco, Fruit de la Passion)
Sherbet and Ice Cream (Vanilla, Coffee, Chocolate, Salted butter caramel, Strawberry, Pistachio, Lemon, Mango, Coconut, Passion fruit)
12€
Café Gourmand du Bistro
Bistro Gourmet Café
15€
VINS
Champagne à la coupe (18cl)
18€
Servis en magnum, selon disponibilité (20cl)
- Chasse spleen - Maucaillou - Baron de Brane - Blason d'Issan
20€
VINS AU VERRE (12cl/15cl)
Petit Chablis « La Chablisienne »
12/14€
Chablis "Grand Régnard"
16/18€
Bourgogne Pinot noir
14/16€
Infos
ADRESSE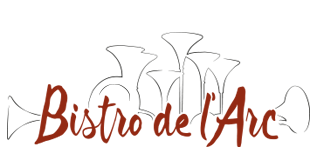 11 avenue de la Grande Armée
75016 Paris
01 43 06 76 50
MÉTRO
Argentine ou Charles de Gaulle Etoile
HORAIRES
Ouvert de 7h à 2h du lundi au vendredi.
Fermé le samedi et le dimanche.
Service continu 12h/15h & 19h/22h
SERVICES
Salle climatisée
Animaux acceptés
PLAN D'ACCÈS
GPS: 48°52'27.7"N 2°17'29.9"E
Contact
Pour nous contacter, remplissez ce formulaire
Réserver
Réserver au Bistro de L'Arc
Bistro de L'Arc
11 avenue de la Grande Armée
75016
Paris
01 43 06 76 50
© 2023 Restaurant Bistro de l'Arc à Paris, propulsé par HRV Prod/Restovisio. Tous droits réservés. Mentions légales